Charmed Kitchen With a Softer View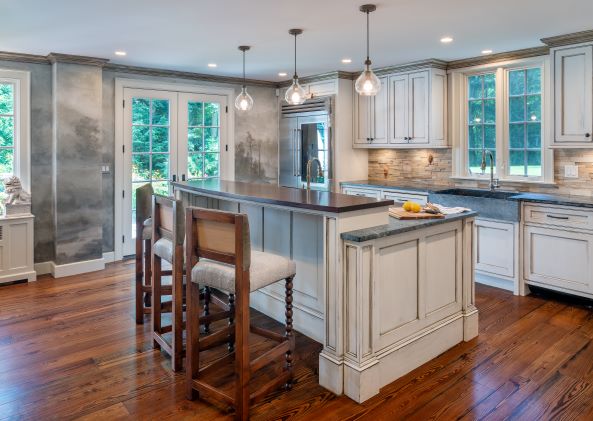 Charmed Kitchen With a Softer View
Written February 6, 2020
Sepia Tone Landscape Mural and Gloriously Weathered Cabinet Painting
How do you make a new addition and kitchen seamlessly match the charm and age of a 125 year old home? Transform the new kitchen cabinets with an age-worn patina finish. Add to that an impressionistic and mono-chromatic landscape mural, and frame the entire space with a distressed, gold and silver finish on the crown molding.
We like to think of ourselves as Renaissance artists with a wide array of mediums and skills to employ on a wide array of projects, so this one was the bee's knees for us. I loved how our client knew the feeling of what she wanted. The initial discussion for the direction of the kitchen interior did not involve color chips or an IPad full of beautifully designed kitchen pictures.
We talked about timelessness, rustic elegance, moody yet inspiring atmospheres. There was also a digitally produced landscape print she purchased at a popular home accessories store, all of which were excellent references.
All of the murals I paint start with careful mapping of each wall space from which the to-scale composition drawings are made. There were eleven walls and I dutifully gridded them with chalk lines and began the initial sky and foreground glazes. But as the painting progressed it took on a life of its' own.
Click here to see a video about this project.
The scenery is of ethereal river beds and fog shrouded hills in sepia tones of green, gray and brown.
The homeowners are quintessential New Englanders so muted grays and dubious weather spells home. Just like the very near outdoors, we included a fox, swan, deer and an observant raccoon in the painting. With the gloriously aged and patina finished cabinets the panoramic landscape becomes more of a place and less of a painting.