How to Charm the Public with the Real Thing: Old School Signage Newly Restored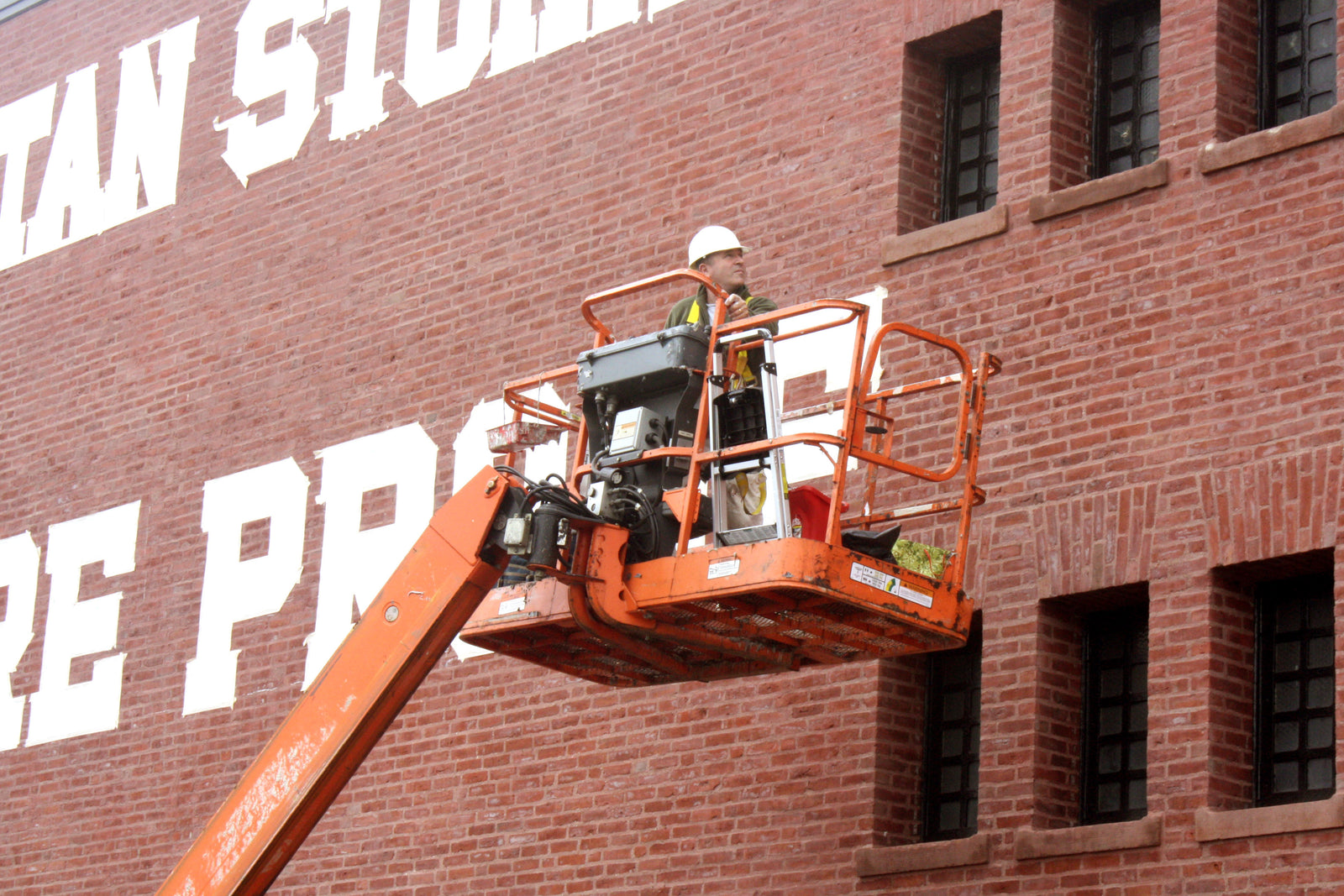 How to Charm the Public with the Real Thing:
Old School Signage Newly Restored
Written January 13, 2020
It was a beautiful January day recently so I went to take pictures of our historical restoration sign painting from a few years back. January is a good month to see entire facades without tree foliage blocking the view. But as you can see there's not much that could hide this commanding edifice. There always seems to be a traffic cop in the area due to the constant construction being done in the MIT neighborhood. Lucky for me this particular officer happens to be a history buff, saw my object of interest and offered me some historical bits of information that gave me even more respect for this mystery behemoth. I love random conversations with strangers and this one did not disappoint.Here's a smattering of what I learned:
The building is now owned by Massachusetts Institute of Technology, was built in 1891, and even though it bragged of being "fire proof" (see large painted "fire proof" words on side of building), eventually there was a blaze which was the beginning of its end as a storage warehouse.
This colossal building in East Cambridge, Massachusetts appears like a medieval fortress with its small windows and a corner turret and sits in a busy intersection of Massachusetts Ave. It was the first of its kind in that it was temperature controlled, and for over a century people with extensive collections of all kinds kept them in secure storage rooms there.
MIT purchased the property during the 50's, becoming the safeguard of a multitude of strange belongings, such as a 1953 Studillac, a Studebaker and Cadillac mix.  Here's a picture of one that was reviewed in Mechanics Illustrated.
A dream job would've been to explore the entire contents of derelict storage rooms containing long forgotten treasures and oddities of the past. Maybe there were hot air balloon baskets, silent movie backdrops, automatons, like in the movie Hugo. Sadly, we never got the call for that project, but we were commissioned by APC Services and the Cambridge Historical Society for something very much in our wheelhouse, restoring and re-creating the antique painted exterior signage on this building.
The original painted signs had become ghostly and transparent and were beautiful in a distressed way. The problem was that the mortar and some of the bricks needed re-pointing and the prep work of power washing the walls eradicated what little was left of letters. Now the iconic painted signage can be seen from quite a distance.
Here's Ami in the power lift from where all of the letters were measured off, taped and painted in. In addition to the antique-font letters in white we added a dropped shadow in black, which can be seen in the top photo. Because the original signs were done in the early 20th century there was no standard typeface used. Each letter was measured to approximate the same scale as the others so we used the same "old school" technique of measuring, drawing, taping off edges and painting. Back in the early 1900's they may have used oak tag stencils instead of tape or simply hand-painted the straight edges with the skill of someone who was a professional sign painter. Today there are adhesive stencils, digital design tools and power lifts at our disposal. I'm sure, however, that the feeling of satisfaction and the thrill of working high-up on a bold piece of signage that didn't exist before sign painters like us came along is the same
Just in case you are wondering, the building will most likely be used for MIT student housing and the signage will remain. In the meantime walk down Massachusetts Ave to take a look. You can't miss it.